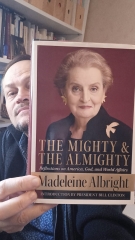 Former secretary of State (USA), Madeleine Albright (1937- 2022)i s gone.
She left a mixed legacy of strong committment to Democracy worldwide, but also of ambiguous global interventionism (including strong support for embargo on Irak, indirectly leading to DAESH's birth).
Smart and well-trained, interested by the role of Faith on Geopolitics, she published a significant book in 2006.
Its title : The Mighty and the Almighty. Introduced by President Bill Clinton.
In that book, she argued that politics and religious values can work together to promote peace. In her seventeenth chapter about Africa, she pleaded for a better training for diplomats, who should take faith seriously. A good lesson that applies to French diplomats too.