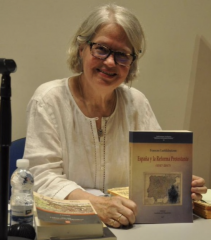 As Protestantism (mainly Evangelical/Pentecostal) is growing in Spain, let's not forget Frances Luttikhuizen, an English Philology lecturer, writer, and researcher of Protestantism, who passed away in Barcelona this last summer 2022.
Her main fields of interest included the history of translation, linguistic awareness, Cervantes' works, and the Spanish Reformation.
Among Luttikhuizen's most important works is the book España y la Reforma Protestante (Spain and the Protestant Reformation, 2018, 468p (link), of which Spanish theologian José Moreno Berrocal has said it is "a work that represents a before and after in the studies of the Reformation in Spain (...).
There is a wealth of data and ideas that will make this book a constant and obligatory reference work".
Some reviews of this book are available, mostly in Spanish, including in this History of Philosophy publication (link)
Thank you Evangelical Focus for this obituary (link)