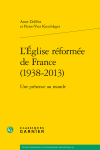 This is the first work devoted to the history of the Reformed Church of France, from its rebirth in the 20th century on the ashes of the Concordant Church to the union between the Reformed and Lutherans in 2013.
This Reformed Church embodies a particular presence in the world, carried by a strong identity.
A must-read book édited by a prestigious publishing house, which hopefully may be translated in English, at least partially ! Congrats to the authors.