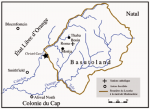 Thanks to Ntabanyane S. K. Tseuoa (University of KwaZulu-Natal), a new light is shed on the interactions between the Paris Evangelical Mission and the people of the Basutoland (now in South Africa).
This paper (2020) investigates how the Paris Mission acquired land in Basutoland upon the arrival of its missionaries in 1833 and in subsequent years. It also looks at changing notions of land and the missionaries' utilisation of it throughout their tenure in Basutoland. It explores how the Basuto as a people understood the possession of land vis-â-vis the European notion of buying and selling land as a commodity.
Grateful for the full-text access! Good work! But disappointed by the total lack of french-speaking research. A great deal of quality work has been done, particularly by Historian Jean-François Zorn, world-wide specialist of the Paris Evangelical Mission. None of this research is used here. Hey, English-speaking friends, using a bit of french should not be an option if you work on French missions!