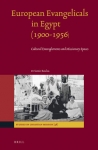 This scholarly book is the published version of a PhD dissertation submitted by Dr Samir Boulos in 2013 at the University of Zurich.
It is a well-researched attempt at understanding the interactions of three European Evangelical missions (two of them British, and one German) active in Egypt in colonial, late colonial and post colonial contexts, from a cultural studies perspective. Here are these missionary institutions :the German Sudan Pioneer-Mission, the English Mission College in Cairo (dependent on the Church of England), and the (British) Egypt General Mission.
These institutions were committed to diverse forms of missionary actions. The main aspects were education through schools, and health, both through hospitals and family health advice intended for mothers. The full book's review from Philippe Bourmaud is available here (Social Sciences and Missions, link).