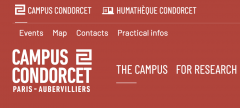 Have you not heard yet of the CAMPUS CONDORCET (France) ?
Time to catch up !
Apart from being my beautiful workplace, it is one of the world's biggest social science university campus.
"Campus Condorcet firmly believes that the exacting requirements of scientific excellence can be reconciled with social impact. It therefore intends to radically transform the approaches and practices used for research, training and innovation promotion in the social sciences and humanities (SSH) fields, as well as their interface with other sciences. This ambition for far-reaching change is on a par with the level of investment required to create a campus that will bring together an exceptionally large scientific community both by European and global standards (3500 researchers and 4600 doctoral students), in a dynamic region, and the many challenges that this entails".