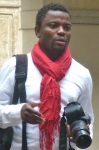 As I attended the first day of "Pentecostals, politics of space and power", the Padova international Conference organized by Professor Enzo Pace and Annalisa Butticci, let's highlight one inspiring concept emphasized by Annalisa Butticci : contemporary teaching and science are facing a "visual turn".
Less texts, more images. Social sciences have to adapt!
It makes all the more relevant "Na God", the picture exhibit realized by gifted photographer Andrew Esiebo (pictured left).
As quoted from the "Na God!" website, "With a deep and intimate gaze, Andrew Esiebo shows religious emotions, liturgical objects, sacred spaces, altars, and Sunday styles. The exhibition guides the observers throughout an intensive emotional and visual journey going from Lagos, Nigeria to Rome, Verona, Padova and other Italian cities."
This visual experience is also a cognitive experience, illustrating one important contemporary dimension of these Christian diasporas : it not just a "transnational reality". It is also a "circulating territory" (1) with its own rituals, language, boundaries.
(1) Alain Tarrius, "Territoires circulatoires et étapes urbaines des transmigrant(e)s", in Regards croisés sur l'économie, 2010/2 (n° 8), p.63-70.