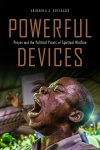 Combining religious studies with ethnography, Powerful Devices (forthcoming) explores Nigerian Pentecostals and US Evangelicals' praxis of transnational spiritual warfare.
By closely studying spiritual warfare prayers as a "device," Powerful Devices shows how the rituals of prayer enable an apprehension of time, paradigms of self-enhancement, and the subversion of politics and authority.
Abimbola Adunni Adelakun explores charismatic Christianity's relationship to science and secular authority, technology and temporality, neoliberalism, and reactionary ideology.