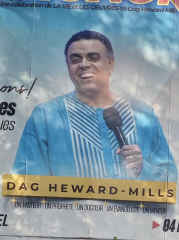 Based in Accra (Ghana)
Pastor Dag
Heward-Mills is one of the most prominent postcolonial Evangelical leader in West Africa.
Here below (link) he's advertised in Ivory Coast.
Less knowed is the fact that French-speaking West Africa is experiencing, over the last 25 years, a major Evangelical/Pentecostal revival, creating new French-speaking role models for Christian Africa.

To know more, click below to discover this Field Album (pics done during a 8 days stay in Abidjan, Ivory Coast).