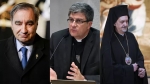 Major representatives of the three branches of French Christianity, Catholic, Protestant and Orthodox speak out in a column published in the daily Le Figaro yesterday.
They warn about the current "separatism bill" and the threat of an increased State control over churches and religions.
For them, freedom is at stake.